AORS Volunteer of the Year Award
This award was established by the Association of Ontario Road Supervisors that will be awarded to someone who has made ongoing contributions to the association. This award is meant to recognize the invaluable and outstanding contribution to the municipal sector made by our dedicated volunteers who have made a significant contribution to AORS. The 2023 AORS Volunteer of the Year Award will be the first time AORS has given out this award. 
Selection of the award recipient will be made by the association's executive based on the criteria listed below.
The nominee must:
• Be a current and active volunteer;
• Be a municipal or supplier member/volunteer (AORS employees and paid instructors are ineligible);
• Have served a minimum of five (5) years as an active volunteer;
• Be an active and dedicated supporter of AORS; and its public works professionals dedicated to providing high-quality public services through certification, educational programs and interaction amongst its members and the strategic goals of the association.
The nomination period will end on February 28, 2023, and the recipient of this annual award will be announced at the Annual General Meeting in April 2023. The nomination form can be printed off and sent to the Executive Director (Mr. John Maheu) at admin@aors.on.ca or can be filled out below.
Volunteer of the Year Nomination Form
---
AORS Book 7 Training Updated to 2022 Requirements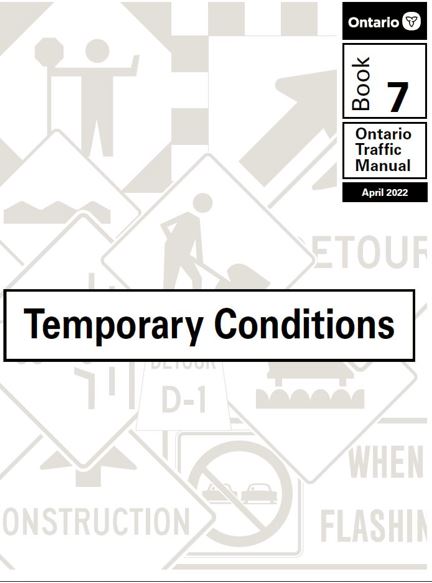 The 2022 version of OTM Book 7 was released in April 2022.  At that time, MTO announced that the effective date for implementing the new requirements for roads under MTO's jurisdiction and control would be December 16, 2022.  This was presumably to allow time for printed copies of the field and office editions of the 2022 version to become available from the Ontario Government Bookstore.  As of January 3, 2023, the Ontario Government Bookstore shows that printed copies of the office edition will be available for purchase and shipping mid-February, while availability of the field edition is still to be announced.  In the meantime, electronic copies of both editions can be downloaded for free. However, the print editions purchased from the Ontario Government Bookstore will be better quality and more durable than downloading and printing your own copies.
While the December 16, 2022 effective date does not technically apply to roads under municipal jurisdiction, it is highly recommended that municipalities begin implementing the updated requirements as soon as possible.
When AORS delivered Book 7 training in 2022, it was to the requirements of the previous version, since it was unlikely that the trainees would have downloaded and printed copies of the 2022 version.  The trainer did point out where to expect changes once the 2022 version was available and in effect.
AORS has now updated its training to reflect the 2022 version of Book 7 and will use that exclusively going forward.  AORS has also prepared a slide deck that explains the key changes in the 2022 version, as they apply to municipalities.  All municipalities that registered staff for AORS Book 7 training in 2022 will be offered this slide deck free of charge to bring those staff up to date.  Alternatively, they can arrange for AORS to deliver the presentation to their staff, for a fee. These updates will only be available to those municipal employees that received Book 7 training from AORS in 2022.  Roads staff who took Book 7 training prior to 2022, or never, should take the full Book 7 training, updated to the 2022 requirements.  Contact Dennis O'Neil (dennisoneil@aors.on.ca) for more information or to schedule training at a location convenient for you.  Minimum class size applies.  Have just a few people to train?  Live webinars will resume in spring 2023.  Check Upcoming Seminars for dates.  Course fees do not include copies of OTM Book 7.  Students are advised to order or download a copy of the Field Edition and bring it to the course.
---